chia2160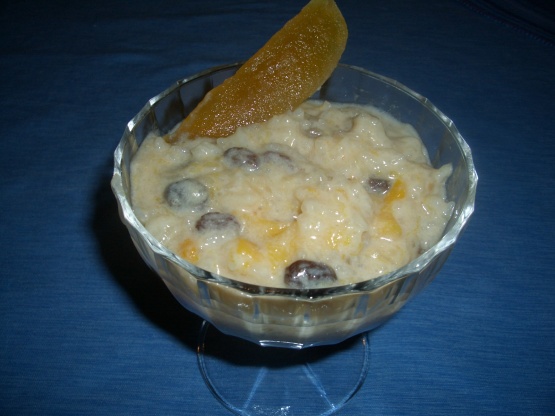 originally inspired by the contest, this was rejected because i added some coconut milk. however this is so good that i'm posting anyway. this may be served warm or cold.

This is a spectacular dessert. All the ingredients complement each other for a rich, tropical dessert. I usually don't like alcohol in my sweets, but the final product had just a little hint of rum that set off the pudding perfectly. I had to resort to using canned mangos as fresh mango is out of season right now, but the taste was still excellent. I recommend using red papaya rather than the orange as the taste is sweeter and it adds some great colour to the dessert. The crystallized ginger was a fantastic addition - everyone raved about it. I felt like the pudding was a bit too sweet, but my husband (a rice pudding officianado from way back) said that it was perfect. The only change I would make to this recipe would be to reduce the milk by a half a cup and add another half cup of coconut milk as I couldn't taste the coconut milk at all (though it did contribute to a lovely richness).
in a small bowl add currants and rum, set aside for 30 minutes.
mix cooked rice with milks, sugar, ginger and salt in a large saucepan.
bring to boil, lower to simmer, stir in currants.
simmer for 40 minutes until thickened.
mix in 1/2 c diced mango and 1/2 c diced papaya.
divide into serving cups, garnish with remaining diced fruit and top with toasted coconut.