Tropical Peach Fruit Smoothie
2⁄3 cup pineapple juice, chilled
1 1⁄2 tablespoons honey
1 cup partially frozen peach, diced
1⁄2 cup diced pineapple
1⁄2 cup partially frozen banana, diced
Directions
Add all the ingredients into the container of an electric blender.
Begin mixing on low speed and gradually increase speed until mixture is smooth and blended.
Pour into a chilled glass and enjoy.
Most Helpful
These is a good smoothie- nothing over powers anything else. I had to make a few changes based on ingredients on hand. I didn't have any pineapple juice so I subbed peach juice. And since the peaches were sugared when frozen I didn't use any honey. Thanks for a great breakfast.

I had this mild-flavored smoothie as part of my lunch today and enjoyed it very much. I have never had the combination of peach and pineapple before and found that the two flavors go together very nicely. I blended everything in my Magic Bullet, but found the pineapple to be more difficult to get smooth. I ended up adding about 6 ice cubes and blending several times to get the consistency that I wanted. Thanks for posting!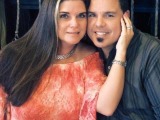 NurseDi,this was just so good!!! i needed a mid-morning pick-me up,and i had this printed off for sometime.i wish that i had tried this earlier.i liked the fact that the different fruits didn't over-power each other.this will be made quite often in my home,thank you so much for posting.