Tropical Margarita Freeze (Pie)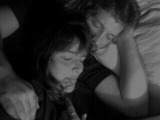 Using fresh strawberries, and some yummy mango sherbet, Spring into summer with this wonderful and colorful frozen dessert. Be sure and add the tequila for the adult version. ;)
1 large graham cracker pie crust (9-inch deep dish)
1 pint mango sherbet, slightly softened (or sorbet)
2 pints fresh strawberries (reserve 1-4 nice strawberries for decoration)
2 tablespoons sugar
1⁄2 cup margarita mix
2 tablespoons tequila (optional)
12 ounces whipped topping
1 mango, sliced to make 8 strips
Directions
Spoon sorbet over crust, spread evenly with metal spatula. Freeze for 30 minutes.
In a food processor or blender, puree strawberries with sugar and margarita mix (and optional tequila). Pour into a large bowl and fold in whipped topping. Carefully pour into over sherbet.
Place mango slices in a star pattern on top of strawberry mixture and gently press to make horizontally even. Place the remaining strawberry in the center. Freeze at least 4 hours until firm.
PARFAIT VARIATION: Use graham cracker crumbs or vanilla wafers and place them amongst 8 freezer-proof margarita glasses. scoop in some sherbet, then the strawberry topping, Finally, garnish with a mango slice and 1/2 of a fresh strawberry. Freeze for 1 hour or till needed. (NOTE: be sure the glasses are safe for freezing).
Reviews
Most Helpful
Since the kids wanted ice cream, this was a nice time to make this, for the DS, and I, and my neighbors. Definately enough for the 4 of us, the only difference is that I added a few extra strawberries I had on hand. The tequila gave this a nice touch. Made for PRMR Tag.

Light and refreshing! I had never tried mango sorbet and chose Haagen Daz - it was so delicious! I couldn't taste the margarita mix too much--just strawberry and mango...yum. Using "light" Cool Whip, this isn't a fattening dessert except for the crust. This made twice as much strawberry topping as needed; 6 oz whipped topping and two cups strawberries fills one crust. This keeps well in the freezer to eat as you want-not like a regular room-temperature pie that could spoil unless eaten in a day or two. Made for the Photo Tag game.

frozen island paradise! This was very yummy! I made it for a potluck so put it in a 13x9 pan and used 1.5x the ingredients. I couldn't for the life of me find mango sherbet :( so I used pineapple. Then topped it with pineapple slices and strawberries. Everyone thought it was the perfect summer dessert, very tropical feeling. It went together very easy and was gone before it could melt!