Tropical Hawaiian Snowballs (Hawaiian-Style Russian Tea Cookies)
Pneuma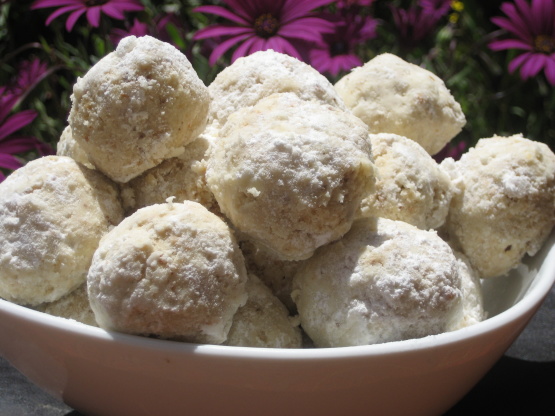 These delicious cookies are like snowballs in that when they are left out they disappear quickly. No, they don't melt, but it seems that they attract little menehune (Hawaiian elves) that just love to gobble them all up when you're not looking! Cooking time includes 30 minutes for cookies to cool off. Also feel free to play around with the extracts. I have used pineapple extract with coconut extract, coconut and banana, and butter, rum and vanilla. All have come out well!
This reminded me of a Russian Tea Cake recipe that I love, so I had to try these. However, I made a few modifications. First, I halved the recipe to 1 cup butter, 1 cup confectioner's sugar. I still used 1 teaspoon of coconut extract (mine is imitation, so maybe the real deal would have a stronger flavor), plus 1/2 teaspoon vanilla extract. I used slightly less flour and salt to keep things the same with my Russian Tea Cake recipe that in my opinion is perfect, 2 1/4 cups flour, 1/4 teaspoon salt. I also recommend chilling the dough overnight. I roll these into 1 inch balls and the recipe yields 4 dozen. The dough can also be frozen if you want to make the dough ahead and bake these later. A little taste of the tropics and a perfect treat for the winter holidays!
Preheat oven to 350 degrees F and line 5 cookie sheets with parchment paper, or spray with cooking spray.
In a large bowl, cream together butter, sugar and vanilla and coconut extracts.
Sift together the flour and the salt.
Slowly add to the butter mixture.
Add nuts. Mix until blended well.
Roll into small, bite sized balls. (about 3/4 of an ounce or 2 tablespoons). I like to use a small #40 portion disher (small, 3/4 ounce sized, ice cream scoop) and place 1-inch apart on prepared cookie sheet.
Bake for 10-13 minutes, or until slightly golden.
While still warm, (not hot, not cold) roll through powdered sugar.
Keeps about a week (but they won't be around that long) in an air-tight container.