2Bleu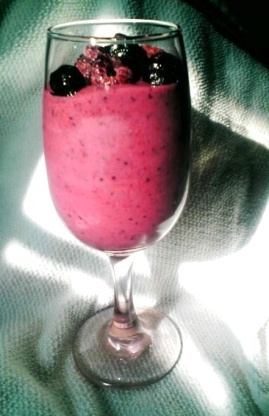 I've not tried this, but how could it be bad?

Bird made this recipe for me and I loved it! It looked so deolicous. The berries on the top made it say, " I am BERRY delicous and taste BERRY good!" The taste was awsome! You couldn't taste any bananas and that is rare for me to find. I would most definatly recomend this recipe to others!
Blend the mango, banana and berries until smooth and creamy.
Put the berries in a tall glass, reserving a few berries.
Pour the smoothie in the glass and serve garnished with the reserved berries.