Tropical Chicken With Mango Yogurt Dipping Sauce
SueVM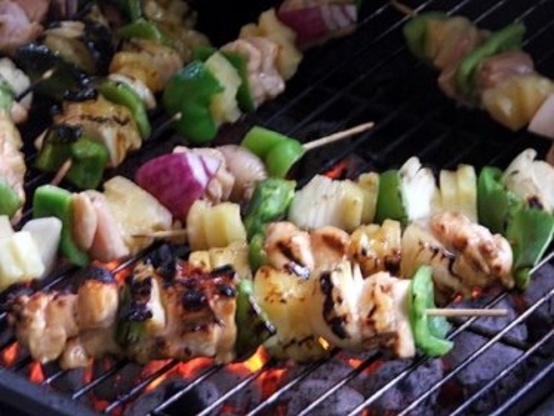 We were invited to a BBQ by our neighbour and someone brought along this delicious skewered chicken and mango dipping sauce. Being the foodie that I am and loving the taste of the fruit, chicken and dipping sauce I pleaded for the recipe.

This was a great dinner! I did all of the prep work and made the sauce before we headed out and when we got home I threw them on the grill and they were done in no time. I served this over some saffron rice and the kids even ate all of the grilled veggies. I am not sure if it made a difference that I let all of the veggies chill in one container or not but they really do transfer a nice flavor to the chicken during the cooking process. Thank you for sharing.
1

large mango, peeled

59.14

ml plain yogurt

1

jalapeno pepper, seeded and coarsely chopped

1

green onion, coarsely chopped
salt, to taste

1

fresh ripe pineapple, peeled and cut into chunks. (Tinned will work too)

3

boneless skinless chicken breasts, cut into cubes

2

small green bell peppers, cut into chunks (or 1 red and 1 green)

1

small red onion, cut into chunks

2.46

ml salt
fresh coarse ground black pepper, to taste
nonstick cooking spray (if needed)

6

bamboo skewers, soaked in cold water for at least 30 minutes
To prepare dipping sauce place mango in a food processor or blender, add yogurt, jalapeno, lime juice, green onion and salt.
Pulse until smooth and refrigerate until needed.
Thread cubed chicken, pineapple, green peppers and red onion onto the soaked bamboo skewers sprinkling with salt and pepper.
Heat BBQ or charcoal grill to medium heat and spray with cooking oil if needed.
Place skewers on grill and cook 5 to 7 minutes per side turning as needed until the chicken is thoroughly cooked.
Serve with the dipping sauce.