Tropical Chicken Stir-Fry
awalde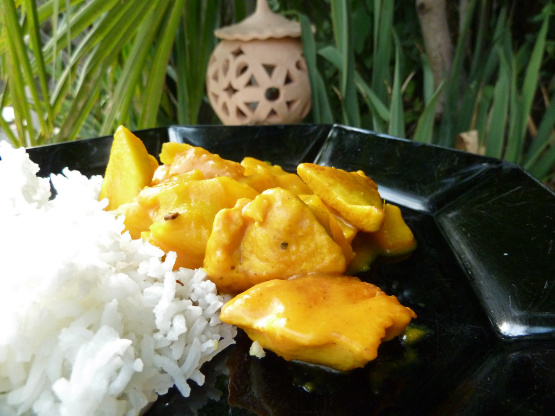 A stir-fry that is a little different, and relatively easy to put together. Found this recipe on the web. Can easily use white or brown rice instead of the jasmine rice!

This was really good. The only thing I would do differently would to be to add in some red or orange bell peppers next time to add a little color and contrast. Thanks for a great recipe iewe. Made for team Tasty Testers for The Caribbean Islands round of ZWT9.
Drain tropical fruit, reserving juice; set aside.
Combine 1/2 cup reserved juice with soy sauce, ginger, paprika, turmeric, and allspice in a small bowl; set aside.
Mix orange juice and cornstarch in a small bowl; set aside.
Salt and pepper chicken. Heat oil in wok or large skillet over high heat. Add garlic and scallion and stir-fry for 1 minute.
Add chicken and stir fry until no longer pink.
Add orange juice and soy sauce mixtures to the wok. Stir gently for about 30 seconds.
Add fruit salad, cover and cook 2 minutes.
Add orange juice with cornstarch to the wok and stir until thickened.
Serve over hot jasmine rice.