Rita1652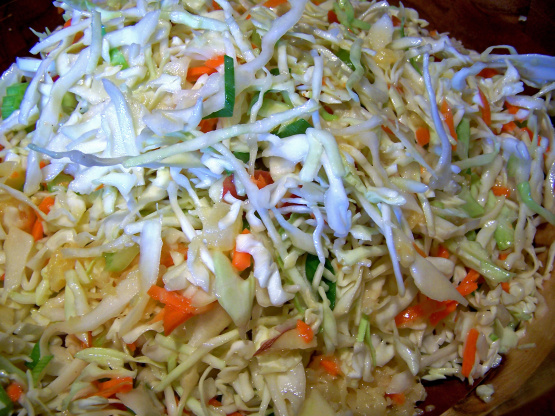 This makes a nice tangy cabbage slaw with a crunch. Great for hot summer days. Serve it as a side dish or have it for lunch. The homemade dressing is the key to this cool salad.

I particularly love cabbage salads, and the mixture of pineapple, carrots and apple with such a tangy and flavorful dressing was just divine!! I did use the pecans (lightly toasted) and found this to be a wonderful summer salad (nice lightly sweet tropical twist to a traditional slaw- with nice crunchy tidbits and a nicely savory sauce!)to accompany all the BBQ items we had at our picnic. Had LOTS of compliments - and requests for the recipe!!! Hope your entry wins you the contest unknown chef!! I really liked this one!
Drain pineapple, reserving 1/4 cup syrup.
Combine crushed pineapple, cabbage, carrots, celery, pecans, apples and onions with reserved syrup, set aside.
In a blender combine egg yolk, lemon juice, mustard, celery salt, Worcestershire and cayenne. With blender on low setting add oil slowly until thickened. It is best to add oil a few drops at a time.
Toss salad mixture with dressing. Cover; refrigerate at least 1 hour.