awalde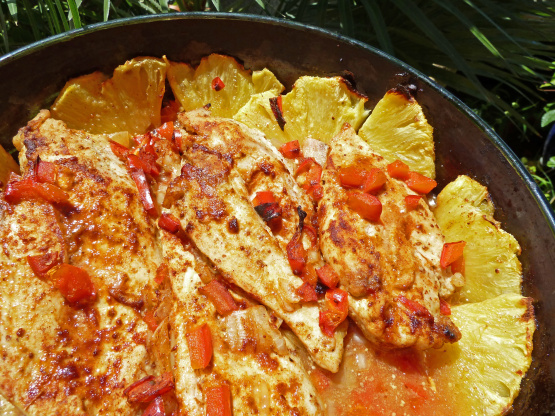 This is an exotic take on the traditional baked chicken. The fruit juices and delicious spices really make this version outstanding.

This was amazing! I wasn't sure about how all the flavours would work together, but the combination intrigued me. I did everything exactly as lined out in the recipe, but instead of bringing the sauce to a boil at the end, I increased the oven temperature to about 425*F and baked it for about 10 minutes longer, until the sauce was thick and the chicken was nicely browned. We were rewarded with one of the most delicious chicken dishes I have eaten in a long time. Thankyou so much for this wonderful recipe. It is a keeper for sure.
Position rack in the center of the oven.
Preheat oven to 350°F.
Mix together Dijon mustard, basil and honey.
Smear the chicken with this mixture.
Arrange chicken, skin side down, in a shallow roasting pan or baking dish just large enough to hold it in a single layer.
Sprinkle the pieces with finely chopped onions, bell peppers, butter, salt and freshly-ground pepper to taste and 1/2 tsp each of cinnamon and paprika.
Pour orange and pineapple juice around the chicken.
Bake, basting once, for 30 minutes.
Turn the chicken skin side up, season with salt and pepper, 1/2 tsp each of cinnamon and paprika, and all of brown sugar.
Bake until the chicken is tender and golden, about 20 minutes longer.
Add more orange juice or pineapple juice if the pan seems dry.
Pour the juice into a small saucepan and boil over high heat until it becomes syrupy.
Spoon the sauce over the chicken and serve.