Trixie's Salmon Patties With Creamed Peas
Pam-I-Am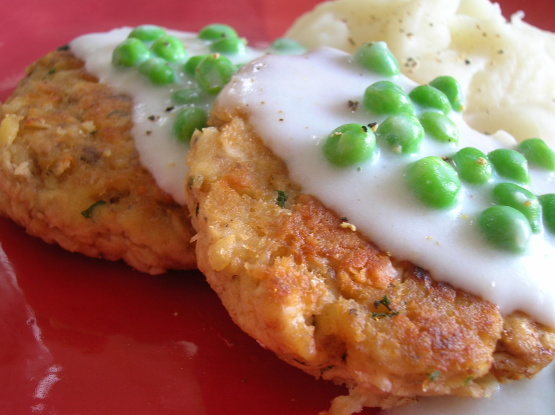 This was my mom's recipe (Trixie was my dad's nickname for her; sure to get a reaction!). It's quick, easy, inexpensive, and true comfort food. Be sure to serve with homemade mashed potatoes to get the full effect.

I make this recipe regularly for my family as did my mom. It's delicious and the creamed peas are a must!! I did make one change in that I don't like as many crackers in the mix...makes it a bit harder to form the pattie. I used 2 15 oz cans of salmon and one tube of crackers. Otherwise, all is the same. My 10 yo daughter was in heaven. :-) Pam
Salmon Patties

1

(15 ounce) can salmon, drained, bones & skin removed

4

ounces saltine crackers (one tube)

2 -3

eggs, depending on size

1

teaspoon poultry seasoning
fresh black pepper, to taste (don't add salt unless your crackers are unsalted)

2

tablespoons butter (for frying)

2

tablespoons vegetable oil (for frying)

Creamed Peas

1

(10 ounce) bag frozen peas, thawed, drained, but not cooked

3

tablespoons butter
1 1⁄2 cups milk or 1 1⁄2 cups half-and-half

3

tablespoons flour
salt and pepper
In a medium mixing bowl combine all salmon patty ingredients.
Using your hands, mix well and shape into 8 patties.
In a large fry pan, melt butter and oil over medium heat until hot.
Add patties and saute 2 minutes per side, or until crisp and well browned.
Hold in a warm oven while preparing creamed peas.
In a medium sauce pan over medium heat, melt butter.
Add flour and cook, stirring constantly, for one minute.
Gradually add milk or half& half while whisking to prevent lumps.
Cook until the sauce bubbles and thickens.
Add the thawed, drained peas and stir until peas are hot.
Serve two patties per serving, topped with the creamed peas.