AMDmtmom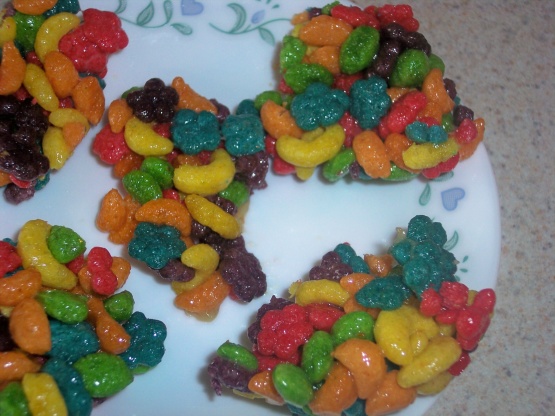 Variation on rice crispy treats, taken from the back of a Food Lion brand Trix knock-off cereal box. The lemonade really makes it different.

WoW! My son came back from a camp at NAU and was raving about "Trix Treats" that they served on campus. He whipped up a batch at home (the regular rice krispie version) and I wasn't really wowed....nobody was. I found this one today and geeze! These are tasty! SWEET but tasty! (afterall, what did I expect from Trix and marshmallows)
35

large marshmallows

2

tablespoons sweetened lemonade drink mix

7

cups Trix cereal
Butter or spray a 13 x 9-inch baking pan.
Melt margarine in a large saucepan over low heat.
Add marshmallows, stirring constantly until melted. Remove from heat.
Stir in drink mix.
Quickly add cereal, stirring until all pieces are evenly coated.
Pour into baking pan, cover with wax paper and press cereal mixture down firmly into pan.
Allow to cool, remove wax paper and cut into squares.
Enjoy!