Triple Vanilla Bean Cookies
Rita1652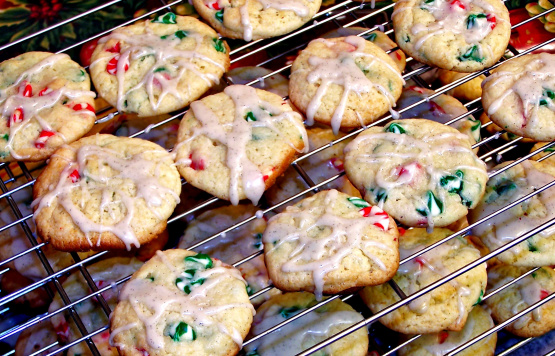 For vanilla lovers! This festive, very easy recipe uses a vanilla cake mix a take off of Cake Mix Christmas Cookies and home made vanilla bourbon extract Madagascar Bourbon Vanilla, Bourbon Extract , I have one posted as do others here on zaar. But by all means use the best real extract you have. If you look closely at the picture you'll see the flecks of seeds from the vanilla.
Cookies:.
Mix the first 4 ingredients together.
Blend in morsels.
Chill for 1 hour.
Shape in 1" balls.
Place on parchment lined baking sheet.
Bake 10-12 minutes at 375°F.
Cool on a wire rack.
Icing:.
Mix sugar and vanilla extract, slowly adding water to make a smooth creamy consistency. Drizzle over cooled cookies and let harden. Enjoy!