Triple Threat Guinness-Cheese Spread
GaylaJ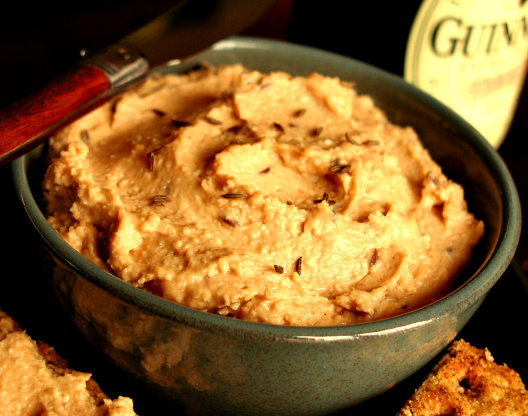 A palate-pleasing blend of cheese and beer.

I made this at x-mas for my hubby's very Irish family. They loved it, though they do tend to prefer strong flavors (which this is). I used the Dubliner chedder and also the Kerry Gold Irish White. This made the dip a lovely tan color, instead of the unfortunate color it may have turned had I used an orange color cheese. Oh, I also left out the seeds. Try serving it with green apples and thick pretzle rods, the pumpernickle onoin ones work great! I'm making it again tonight for a Paddy's party. I'm sure some people will be scared of it, but they are probably the same people who think Guinness is "too heavy".
Combine cut up cheddar, blue cheese and cream cheeses in the bowl of a food processor or blender.
Add caraway seeds, paprika and beer.
Process until smooth.
Transfer to a serving bowl or crock.
Serve at room temperature with crackers or spread on grilled hamburgers or hot dogs.