flower7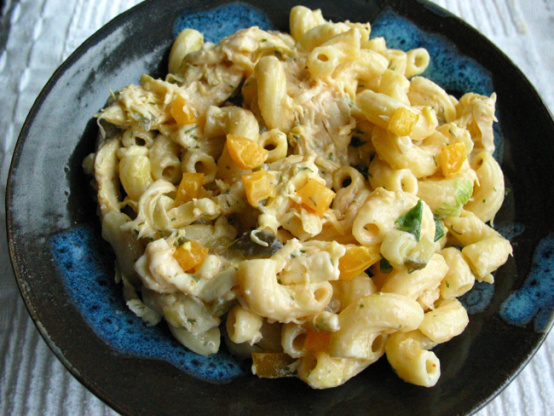 My sister Jodi played with another recipe she had and came up with this amazing tasting pasta salad. Very unique. Great for using up leftover chicken or turkey.

I used this recipe for a guide but changed up the amounts a bit. I used just under 2 cups (uncooked measurement) pasta and shredded leftover rotisserie chicken (white meat only - about 3 cups total). For the pickle, I used drained dill relish and I added some green onion and bell pepper for extra veg. I cut the mayo to 3/4 cup and rather than purchase an entire bottle of Catalina for 2 Tbsp, I looked up a recipe and cut it down to as close to 2 Tbsp as I could get (recipe #33561). For the cheese I used sharp cheddar and only used 3 ounces (what I had on hand). The resulting recipe was SUPER tasty! I will definitely make this one again, when I have leftover rotisserie chicken to use. Thanks for sharing! ~June 6, 2011. Update: Made again the same way as I did before but with 4 oz Monterey jack cheese - still delish! Thanks again!
Mix mayo and Catalina dressing first, then add dill.
Add sauce to noodles, mix thoroughly, then add the rest and mix till all is well coated.