najwa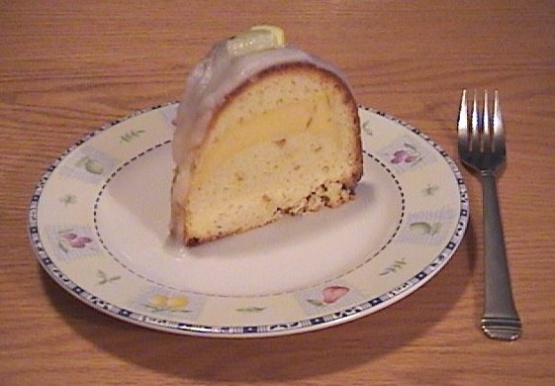 Every time I've made this cake, it's gone over extremely well. Lemon cake with a lemony cream cheese swirl and lemon glaze ... what's not to like? NOTE: Because this recipe is from a Minute Maid Frozen Lemon Juice booklet, it does call for just lemon juice, and I like the mild flavor. However, many like a stronger lemon flavor, and have added some grated lemon rind to the batter, with excellent results. You should, however, use either frozen or fresh; reconstituted doesn't work as well in this cake.
Prepare the filling by beating the cream cheese and sugar in a bowl.
Beat in the egg until the mixture is fluffy.
Add the flour until well blended and stir in the lemon juice.
Set aside.
Preheat the oven to 350 and spray a 12-cup tube or bundt pan with the non-stick spray.
Cream the butter and sugar, then beat in the eggs until the mixture is very light and fluffy.
Add the lemon juice and beat just until blended in.
Combine the dry ingredients& add to creamed mixture alternately with the milk.
Pour half of batter into the prepared pan.
Cover the batter in the pan with the cream cheese filling and pour in the remaining batter.
Gently swirl a knife through the batter a few times to make a swirl.
Bake for 50-60 minutes until cake pulls away from the side of the pan.
Cool in the pan for 10 minutes, then turn out and cool completely.
Prepare the glaze by stirring the 2 tbs.
of lemon juice into the confectioner's sugar and blending until smooth.
Drizzle over the cooled cake.