Triple-Layer Mocha Hot Chocolate
Annacia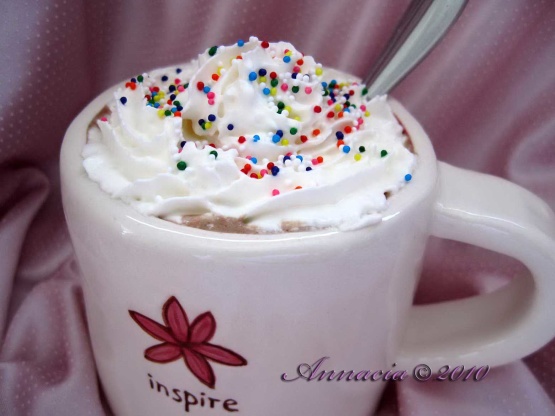 This will warm you up on a cold day.

Good Golly Miss Molly, how did I miss this cup of pleasure for an entire year? Never mind I have now discovered it and I just can't tell you how delighted I am :D. it has a rich, beautiful chocolate goodness that isn't overpowered by sweet. The coffee is a lovely under note that adds an elegance to the overall taste. I used Splenda for the sugar and Special Dark Chocolate chips and a pinch of Himalayan Pink salt. Perfection!
Into each of 4 mugs, place 1 T chips and 1 t coffee; reserve.
In a medium pot, whisk together sugar, cocoa, cornstarch and salt.
Whisk in 2 T water until blended.
Over medium heat, bring mixture to simmer; cook; whisking occasionally, until syrupy, 5 minutes.
Whisk in 2 cups milk; cook, whisking constantly, until very hot but not boiling.
Pour 1/4 cup hot cocoa mixture into each mug; stir until chips are melted.
In microwave-safe measuring cup, microwave remaining 1 cup milk on high in 15-second intervals until hot; stir into remaining cocoa mixture.
Transfer mixture to blender.
With lid firmly held on, carefully blend mixture until frothy.
Dividing evenly, spoon over hot chocolate in mugs.
Top with whipped cream and sprinkles, if desired.