Triple D's Lemonade Pork Chops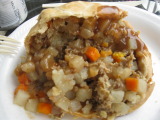 Inspired from a Diner's, Drive-In's & Dives episode. I "THINK" I have all the ingredients right...I just scaled it down. Since I LOVE Lemon Pepper Chicken, this might be good for chicken, too!!!
Directions
In a food processor, combine the lemons (rind & seeds too -- EVERYTHING), sugar and 1 cup water -- process until liquified.
Strain the mixture.
Place the lemon mixture & remaining ingredients, (except the chops & the flour) in a large stainless steel saucepan.
Simmer for 1 hour on medium, stirring often, being careful not to burn.
Remove from heat & set aside to cool.
Preheat oven to 325°.
Dredge chops in the seasoned flour.
Brown chops in olive oil over med.-high heat until golden brown -- cook in batches, if need be.
Place chops in roaster & pour lemonade sauce over.
Cover roaster & place in oven.
Cook for 1½ hours or until tender.
Most Helpful
I made this just as the recipe said. BUT I cooked it in my Instant Pot for 4 minutes, marinade and all. I released the pressure and removed the pork to a hot cast iron skillet with a little oil in it. I browned the chops quickly, removed them from the skillet and dunked them back in the cooking liquid in the Instant Pot. Plopped those babies on a plate with a pile of mashed potatoes and chowed.
I just made this today. I found it good but I think my lemons were very juicy for the lemon was very overpowering. I will make it again but make a few adjustments. I don't know what though maybe some Worcestershire or a little brown sugar? I just don't know. but it isn't bad just needs some TLC I would love some suggestions >)
Tasty. I used white vinegar instead of apple cider b/c I was out. I was also out of thyme. This has a slight lemon undertone to it. I was expecting more of a lemon flavor. It was still very good. The chops came out nice and tender. Even my pork hating DD ate it.