Triple Chocolate Surprise - Crock Pot

Chocolatey dessert that you make in the crock pot. Serve hot or warm with ice cream and/or whipped cream topping.
Directions
Spray crock pot with non-stick cooking spray or lightly grease.
Mix cake mix, sour cream, pudding mix, chocolate chips, oil, eggs and water in bowl by hand.
Pour into crock pot. Cover and cook on Low 6 to 8 hours or on High 3 to 4 hours.
Serve hot or warm with ice cream and/or whipped cream topping. I like to put 1 or 2 scoops of ice cream on top. Top the ice cream with whipped cream and then drizzle chocolate syrup over all.
Reviews
Most Helpful
This is a kids of all ages favorite! This is a perfect base for a hot fudge sundae. Whenever I make this, I always have someone asking me for the recipe. Now I just email it to them! From Best-Loved Slow Cooker Recipes cookbook. Thanks for posting, CraftyLady!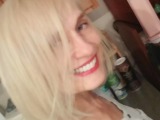 A very dense chocolately dessert. I served it warm. I did find that it finished cooking quicker than I expected in the crockpot - I had it on an 8-10 hour schedule but it was burnt along all the edges so it must have finished a lot earlier. I'll have to watch that next time. Made for Cupid's Choice Bevy Tag Game Feb 08
Loved this recipe. It was very easy and tasty. I couldn't stop eating it. Serving with ice cream is a must.
More Slow-Cooker Favorites