Triple Chocolate Strawberry Shortcake
Marlitt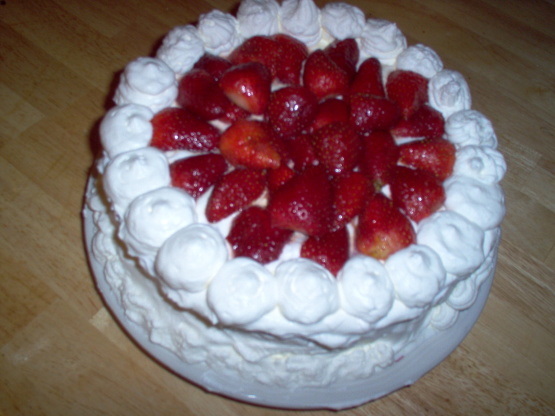 This is a really nice light cake. Lots of chocolate flavor. Kids just devoured it. Very easy to make. Adapted from a recipe in Woman's World.

Top Review by Pneuma
These are great! Used frozen strawberries since it's out of season and used a bigger pan since I didn't have 9 inch. The chocolate cake itself is delicious, just the right texture and the addition of white chocolate in the cream's a wonderful idea. Next time, I'll use a smaller pan so that my cream comes out that thick as in your picture. Thanks!
Preheat oven to 350 degrees F.
Grease 2 9" round pans.
In a small bowl slice 2 cups of strawberries and add 1 Tbsp brown sugar and stir to coat, set aside.
In another bowl haul the remainder of the strawberries, half or leave whole.
Add the remaining Tbsp of brown sugar and stir to coat, set aside.
In a large bowl add sugar and butter, beat at medium high speed until smooth.
Beat in eggs and vanilla.
Combine flour, cocoa, soda and salt and gradually beat into the egg, butter mixture.
Melt the chocolate into the boiling water, or microwave to melt chocolate.
Gradually beat into the batter (The batter is thin).
Divide the batter pouring it into the two pans.
Bake for 30 minutes.
Cool in pans for 20 minutes, then remove from the pans and cool completely.
In a bowl beat cream and confectioners' sugar until slightly thick at medium speed.
Add the melted white chocolate to the cream increase the speed to medium high and beat until stiff peaks form.
Put 1 1/2 cup of the cream in a pastry bag fitted with a large star tip, set aside.
When cake has completely cooled spread 1/2 the jam on the the top of the bottom layer.
Spread the other 1/2 of jam on what will be the bottom of the top layer.
Use 2 cups of whipping cream and spread on top of jam of bottom layer of cake.
Arrange the strawberry slices evenly over the whipped cream layer.
Then place top layer of cake on the cake with the jam side going on top of the strawberries.
Use remaining whipped cream spread evenly to cover the cake.
Arrange the whole or halved strawberries on the top of the cake leaving about a 1" boarder on the outer edge.
Take the pastry bag and pipe rosettes around the edge of cake.
Enjoy.