Triple Chocolate Mint Chip Cookies
katii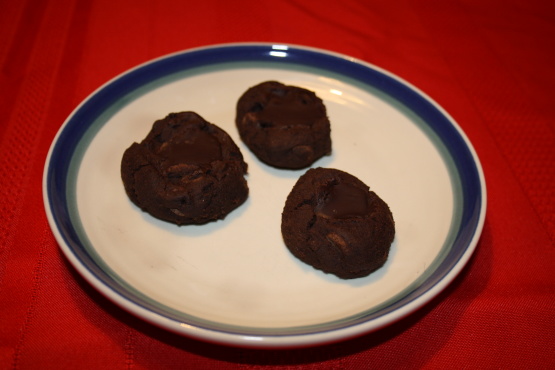 I altered an old recipe for chocolate PB chip cookies and the result was this devilish little decadence. They were a HUGE success at my boyfriend's family reunion. I've been told I'm not allowed back unless I bring these again!

Top Review by katii
Very, very tasty - and I used gluten-free flour! I didn't have Andes baking chips, so I used chipits mint chips instead. These were wickedly delicious and held together extremely well, which is something I look for when adapting recipes to gluten-free. Thanks for the recipe - I'll certainly be making it again!
1

cup margarine
1 1⁄2 cups sugar

2

eggs

2

teaspoons vanilla extract

2

teaspoons mint extract

2

cups unbleached flour
2⁄3 cup cocoa powder
3⁄4 teaspoon baking soda
1⁄2 teaspoon salt

9

ounces dark chocolate chips

3

ounces mint chips (I recommend Andes creme de menthe baking chips, or you could chop up some Andes yourself, if you can)
4 1⁄2 ounces dark mint chocolate (I used Ghirardelli's Intense Dark Mint Bliss squares)
Cream until light and fluffy: margarine, sugar, eggs, vanilla extract, and mint extract.
Combine in separate bowl: flour, Hershey's cocoa, baking soda, and salt.
Gradually beat the dry mixture into the creamed mixture.
Stir in: dark chocolate chips, and Andes baking chips.
Chill until firm enough to handle (I recommend using the freezer).
While chilling, cut mint dark chocolate squares into 1/2 inch pieces.
Preheat oven to 350°F.
Shape dough into 1 inch balls and place on ungreased cookie sheet.
Place one 1/2 inch mint chocolate piece in the middle of each cookie and press down to flatten slightly.
Bake at 350°F for 8-10 minutes.
Before removing from cookie sheet, use a spoon to spread the melted chocolate square over the top of the cookie. BE GENTLE! It's very easy to tear the cookies when they're hot.
Remove from cookie sheet and place on racks to cool.
I like to sprinkle some extra Andes chips on top.