Triple Chocolate Fudge Brownies
flower7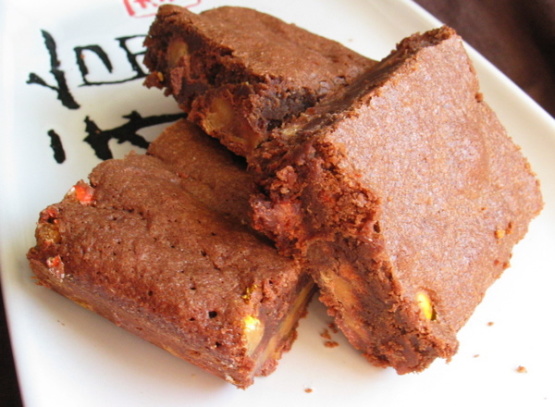 These are dangerous! Be careful! 8)

I couldn't find any good quality unsweetened chocolate except for the single ounce I had in my cupboard and having made a similar recipe before, I know that I like a little semisweet choc. in the batter also so in the end I used 1 oz unsw., 4 oz bitter & 3 oz semi. I also forgot to buy unsalted butter so used salted and cut the salt in half. I used the microwave to melt the chocolate & butter. On a whim I decided to use some mini reece's pieces instead of the choc. chips. These were awesome and my friends loved them! Thanks for the recipe!
Preheat oven to 350°. Grease and flour a 13x9-inch pan.
In metal bowl set over pan of barely simmering water, melt bittersweet chocolate, unsweetened chocolate and butter.
Stir until smooth. Remove bowl from heat; let mixture cool until it is lukewarm.
Stir in the sugar and vanilla extract. Add eggs, one at a time, stirring well after each.
Stir in salt and flour, stirring until mixture is just combined; stir in chocolate chips.
Pour batter into pan, smooth top and bake in middle of oven 25-30 minutes, or until a tester comes out with crumbs.
Let cool completely in pan on a rack, then cut it into bars.