DuChick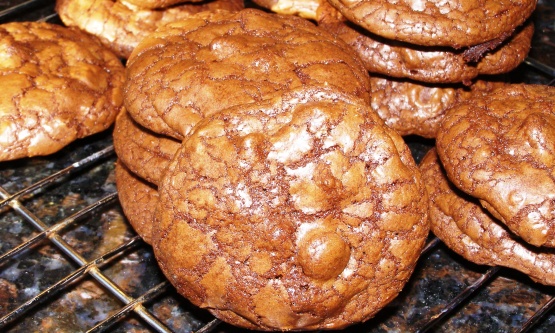 This recipe came from June/July 2005 Cook Country magazine. These cookies are fudgy, but make sure you let them cool directly on the cookie sheet. Also do not use bitter sweet BAR chocolate or they will be WAY to rich.

My friend recommended this recipe to me after he had made them 3 times in a weekend. I made the recipe as written except I went very light on the coffee granules. I only used about 1/4 teaspoon of coffee granules. I knew I wanted a very subtle coffee flavor. It worked out well. I baked the cookies for 10 minutes and then let them sit on the baking sheet for about 3 minutes before moving them to a cooling rack. I baked 6 cookies for now and then shaped the rest of the dough into balls and froze them for another time. This is a great cookie.
Melt unsweetened chocolate, bittersweet chips, and butter in heatproof bowl set over saucepan of simmering water, stirring frequently, until completely smooth and glossy. Remove bowl from pan and set aside to cool slightly.
Stir coffee powder and vanilla extract together in small bowl until disolved. Beat eggs and sugar in large bowl with electric mixer at medium high speed until very thick and pale, about 4 minutes. Add vanilla/coffee mixture and beat until incorporated, 20 seconds. Reduce speed to low, add chocolate mixture, and mix until thoroughly combined, about 30 seconds.
Whisk flour, baking powder and salt together in medium bowl. Using large rubber spatula, fold flour mixture and semisweet chips into batter. Cover bowl with plastic wrap and let stand at room temperature for 20 to 30 minutes until batter firms up (it will look more like thick brownie batter than cookie dough).
Meanwhile adjust two oven racks to upper and lower middle positions and heat oven to 350°F.
Line two large baking sheets with parchment paper. Using 1 heaping tablespoon batter per cookie, place cookies 2 inches apart on prepared sheets. Bake until cookies are shiny and cracked on top, 11 to 14 minutes, rotating baking sheets top to bottom and front to back halfway through the baking time. Transfer baking sheets to racks and cool completely, on baking sheets, before serving.