Triple Chocolate Brownies (Light)
Redsie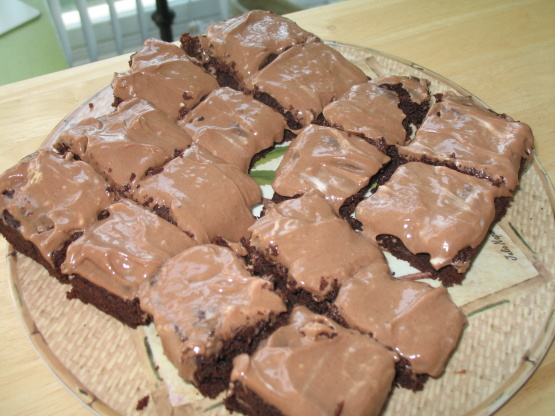 You won't believe these are light! They are just wonderful! Fast to make... and delicious to eat! A great recipe from Rose Reisman. These are great baked 1 day in advance and will keep frozen for up to 1 month.

Ok this is really important: do NOT make this recipe with truvia instead of sugar. There was barely enough batter to cover the bottom of the pan, and definitely a gross aftertaste. I usually like sugar substitutes, even in baking, but maybe not truvia... The texture was still great, so I can't wait to try this recipe again, the RIGHT way.
Preheat oven to 350°F Spray an 8-inch square metal pan with cooking spray.
To make brownies: In a bowl, combine sugar, oil, egg, and vanilla until well mixed. Add cocoa; mix well. Add flour, baking powder, yogurt, and chocolate chips, mixing just until combined and smooth. Don't overmix.
Pour batter into pan; bake in centre of oven for 15 to 20 minutes just until set. Do not overbake. Cool.
To make icing: In a blender or food processor, blend icing ingredients until smooth. Spread over brownie batch. Cut into squares.