Triple Cheeeeesy Macaroni and Cheese
Meucci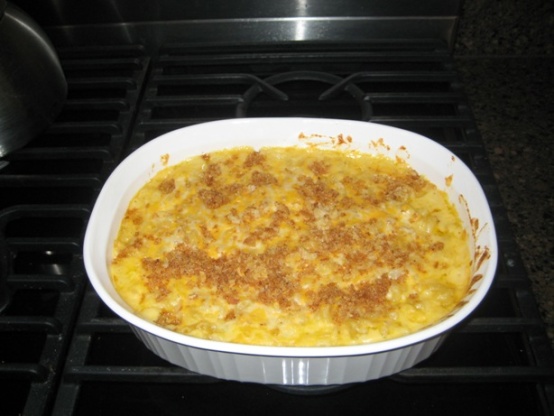 My very own adaptation of several Mac and Cheese recipes all rolled into one. It doesn't get more comforting than Macaroni and Cheese. Yummmmmmmmmy!

My family is hugely into mac and cheese, and I am always looking for new recipes so we don't have the "same old same old" over and over again. I think we have found something we will stick with for quite a while. The three cheeses combine to make a wonderful tasting dish. We don't have American cheese where I live so I substituted a regular yellow cheese. Instead of bread crumbs I used onion-flavored cracker crumbs as the topping. I upped the quantities to serve 10, although our family of 6 inhaled it all at one sitting. I see I'm going to have to up it to at least 16 next time! Thanks for posting this Kari, you may have helped me create a monster!
Melt butter in a saucepan.
Add flour and whisk well.
Allow to cook for a minute or two.
Add milk, pepper, onion and ground mustard.
Cook until smooth.
Tear american cheese slices into small pieces.
Cut Cheddar cheese into cubes.
Add cheeses to milk mixture.
Continue cooking until cheeses are throughly melted.
Place macaroni in a glass casserole dish.
Pour cheese sauce over macaroni.
Stir.
For topping, mix butter, bread crumbs and onion powder together.
Sprinkle over macaroni.
Bake in a 300 degree oven for 20 minutes.
Serve!