Fiddler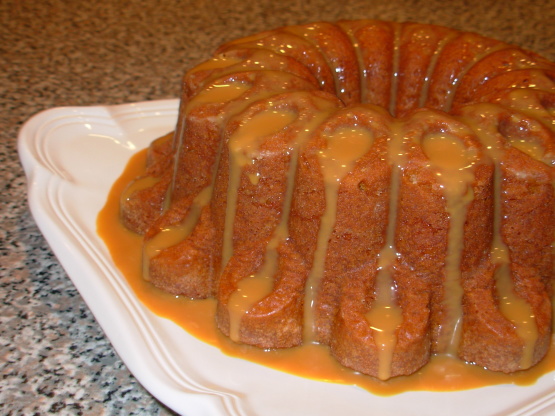 Source: Fine Cooking Magazine

Everyone loved the cake, but the reactions to the sauce was mixed. I took the caramel all the way to the recommended "very dark amber," checking frequently against a white bowl. That was, I think, a little too far, as comments included "I really like the burnt caramel frosting," and "How did you make the caramel not sweet?" I'm going to make it again tonight, taking the caramel only to light amber and will report. (All this is hampered by my not eating sweets, so my reports are necessarily second-hand.) The lighter-colored caramel made a more universally-liked cake (I was told it deserved five stars), but some testers insisted that the darker "had more character." I think I need to keep my audience in mind while doing the caramel!
Caramel Sauce: Put 1 cup of the sugar in a heavy medium saucepan over medium heat.
Leave undisturbed until the sugar begins to melt and darken.
Gently shake the pan to distribute the sugar and to keep the melted sugar from burning.
When all the sugar has melted and the caramel is very dark amber, remove from the heat.
Slowly add 2 cups of the cream, stirring constantly with a wooden spoon.
Be careful, as the caramel tends to boil upwards.
Don't worry if the caramel hardens; it will melt as the sauce boils.
Return the pan to the heat and keep the sauce at a gentle boil.
Stir constantly until the sauce is smooth and has boiled about five minutes.
Remove from the heat and set aside for at least 30 minutes, stirring often, until the sauce is barely warm to the touch.
Measure one cup of the caramel to add to the cake batter and refrigerate the rest.
Cake: Heat the oven to 325 degrees F and grease and flour a 12-cup bundt pan.
Sift the flour, baking powder, and salt together.
With an electric mixer, cream the softened butter and remaining 1 1/2 cups of sugar until light and fluffy.
Mix in the eggs, one at a time, waiting until each egg is incorporated before adding the next.
Use a large spatula to fold the dry ingredients into the creamed butter, sugar, and eggs alternately with the reserved cup of caramel, beginning and ending with the dry ingredients.
Fold in the ingredients gently but thoroughly.
Pour the batter into the prepared pan and bake until a skewer comes out clean, 35 to 40 minutes.
Set on a rack for about 10 minutes and then unmold and cool completely on the rack.
Bring the rest of the caramel sauce to room temperature.
When the cake is cool, glaze it by drizzling half of the remaining caramel sauce over the top.
Whip the remaining one cup of cream until it holds firm peaks.
Fold in the last third of the caramel gently, leaving streaks visible.
Serve with the cake.