Triple Berry Pie - Delicious!!
Zaney1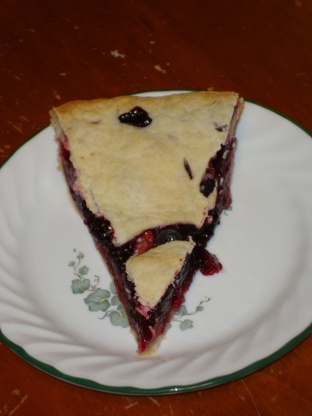 This is from www.kraftfoods.com. A delicious, easy recipe to enjoy those fresh summer berries. Enjoy!

you can't really get a better pie recipe. i searched the entire site and elsewhere... i think 4 cups of fruit is the perfect amount to make a berry pie. i also forgot the butter and it didn't make a difference. will use this recipe as a base from now on... maybe next time add a tablespoon of grand marnier? thanks for a great recipe Amy020!
Mix berries, sugar and tapioca in large bowl. Let stand 15 minutes.
Preheat oven to 400 degrees.
Prepare pie crust as directed on package for 2-crust pie, using 9-inch pie plate.
Fill with fruit mixture and dot with butter.
Cover with second pie crust. Seal and flute edge.
Cut several slits in top crust to vent steam.
Bake 45-50 minutes or until juices form bubbles that burst slowly.
Cool.