Trio of T's Salad (Tuna, Tomato and Tarragon)
Bergy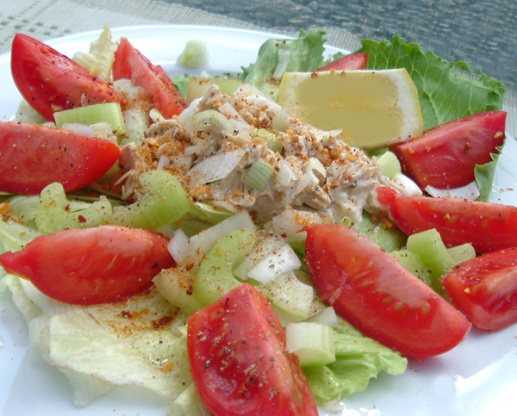 This is a Yummy salad! Such fantastic flavors in one place! Super easy, low in fat, and eye appeal galore! I have read that by soaking the red onion in water for 20 minutes will tame it a bit, but I've never felt the need for it. Feel free to use your favorite salad spices, such as, McCormick's Salad Supreme, it's great, but not everyone would care for it.

Top Review by Bergy
Lovely salad - I had to make a couple of adjustments - no tarragon but I used tarragon vinegar to dress the salad and cut the mayo back to 1 tsp. on the tuna. I sptinkled the salad with roasted garlic & peppers as a final condiment. Thanks Fluffster for a lovely lunch I hope you do not mind the changes I made - You have to use what's on hand sometimes
Place onion in a small bowl and cover with cold water (optional).
Refrigerate for 20 minutes. Drain.
Whisk mayonnaise, salt and pepper in a medium bowl.
Add tuna, celery, tarragon and the drained onion; stir to combine.
Serve on a bed of lettuce (or mixed greens) with tomato and lemon wedges.