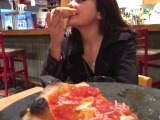 I searched all over for the perfect chili recipe. I finally ended up combining everything I liked and creating my own. We usually do a Creole rub on a bone-in rib roast and slow smoke/grill it and always have leftovers. That is the meat I use unless I am out and then I'll use either Venison or lean beef stew meat. Or, rub a chuck roast and smoke/grill it slowly at 250 degrees for 4-5 hours. Any smoked or slow grilled lean meat will add a great smoky flavor. Great with Moist Cornbread With Cheese
Directions
Salt and pepper meat and sear in oil,remove and set aside.
While oil is still hot in pan sauté onions a few minutes.
Add garlic and stir, mix flour, Cumin, chili powder, salt and cayenne in a bowl and add to sauce pan a little at a time stirring well after each addition.
Add beer and stir.
Add tomatoes, tomato paste, consommé,water and meat and stir.
Cover and simmer 1-2 hours, stirring occasionally, may need to add water.
Add beans.
Serve with your choice of toppings such as minced fresh cilantro, sour cream, shredded cheddar, and chopped green onions.
Serve with Hot corn bread!
Most Helpful
This chili sure is special! I have never made chili that did not have ground beef in it. I used beef stew meat and followed the recipe exactly. It was delicious. My sons complimented for two days how good it was. Made for PAC Fall 2008.