gemini08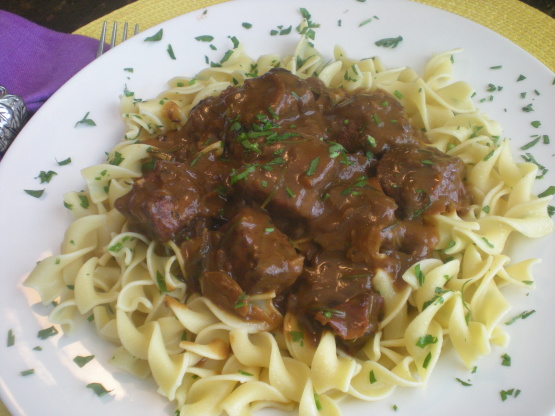 Mario Batali's that I've adapted to use a few more common ingredients...I wasn't much of a stew person until I tried this and was in love. This is so simple, caramelized, and rich, yet lighter due to the chicken stock, that it is now my goto stew recipe.

Liza, this was wonderful! I started the recipe on the stove top until step 7, then transferred everything to a crockpot, it simmered for @ 3 hours on high. During the last half hour I added a slurry. The meat was cooked to perfection and the sauce was to die for! I followed your suggestion and served it over buttered noodles. This goes into my favorite crockpot recipe book, we absolutely loved it.
2 -3

tablespoons olive oil (Batali uses 1 slice of pork fat back)

3

lbs pork shoulder, cubed
salt and pepper

3

onions, sliced

1

cup merlot (just use whatever dry red wine you've got open)

1

tablespoon smoked paprika

2

tablespoons fresh rosemary leaves
3⁄4 cup tomato paste (I just use a small can)

1

cup chicken stock (Batali uses veal stock)

1

lemon, juice of

To serve

1

lb hot cooked pasta, buttered with
butter, and sprinkled with
In a Dutch Oven, heat the oil over medium heat.
Season the pork with salt and pepper and add to the oil and sear on all sides, working in batches if necessary.
Add the sliced onions and cook until they are browned and soft, about 10 minutes.
Add the wine and allow it to evaporate completely.
Add the paprika, bay leaves, rosemary.
Stir in tomato paste.
Cook for 3-4 minutes over high heat, then stir in the chicken stock.
Reduce heat to simmer, cover, and cook about 1.5-2 hours, until the sauce has thickened.
Stir in the lemon juice and season well with salt and pepper.
Serve immediately with buttered hot pasta.