jenne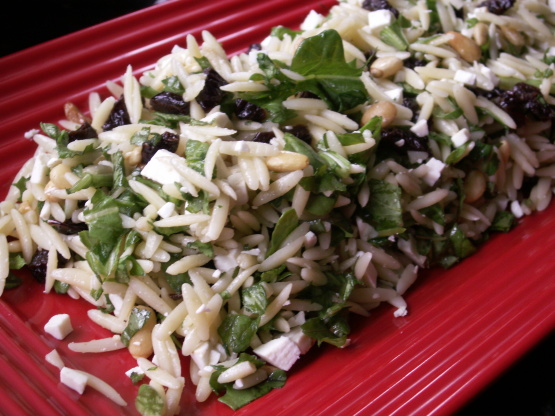 Giada De Laurentiis recipe that is awesome. I made this to take camping and add to a potluck. It was so easy and it keeps so well. I use a Spring Mix instead of Arugula and use whole wheat orzo. I make big batches and take it for lunch at work.
Bring a large pot of salted water to a boil over high heat. Add the pasta and cook until tender but still firm to the bite, stirring occasionally, about 8 to 10 minutes.
Drain pasta and put the pasta on a large cookie sheet.
Drizzle the pasta with 3 tablespoons olive oil, toss, spread out, and set aside to cool.
Once the orzo is cool, transfer to a large serving bowl. Add the remaining ingredients and toss gently to combine. Serve.
Prep time doesn't include cooling time for orzo but it does cool rather quickly.