Susang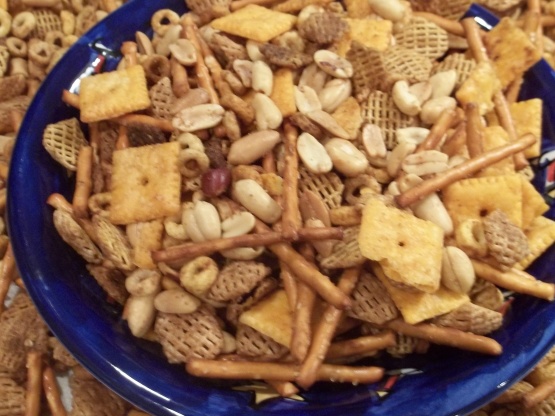 We worked years to perfect the seasonings as most mixes were too salty for our taste. We laugh everytime we make it as the dogs go crazy. They know I have mixing issues (it goes all over), so it's like Pavlovs dogs every 15 minutes while it's cooking! Everyone goes racing into the kitchen! YIKES!!

Top Review by podapo
Used your recipe for a Basket I was making as a Thank You gift, was a huge hit. What I didn't put in the basket, I took to work and it vanished in seconds... will be making your version often.. I like that it didn't have an overwhelming seasoning flavor.. Thanks for sharing
Preheat oven to 250 degrees.
Place butter in a 13x9 inch pan.
Melt in oven.
Add all seasonings and mix WELL.
Add remaining ingredients, mix well.
Bake 15 minutes, stir well.
Bake another 15 minutes, stir well.
Bake another 15 Minutes, stir well.
Bake another 15 miutes.
Take out of oven and let cool on paper toweling.
Beware of poachers!