Tre's Pickled Onion Rings
flower7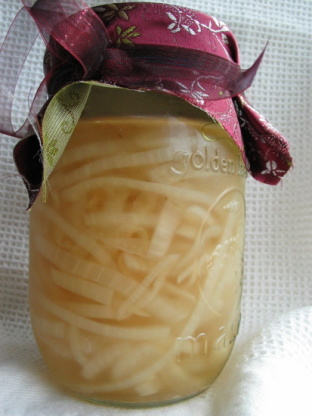 "Good with hamburger, cheese sandwich, egg salad sandwich and as a pickle with regular meals."

Almost as easy as making tea! I used cider vinegar and a little extra tabasco. 5 stars for simplicity and 6 stars for flavor even after a few hours let alone a few days. Do yourself a favor and make two pints of these because they won't last long once they are on the table. Thanks for posting - I love pickles! SA UPDATE ON THIS: My friend Patty tasted these onions and swiped the whole jar for her hubby.............
Cut onion into thin slices. Separate into rings and put into a two cup sterilized jar.
Pour boiling water over to cover onions. Allow to cool, then drain.
Mix together vinegar, water, sugar, salt and hot pepper sauce and bring to a boil. Pour over onion rings.
Cover tightly and refrigerate for at least 2 days before using.
Store in refrigerator up to 2 months.