teresas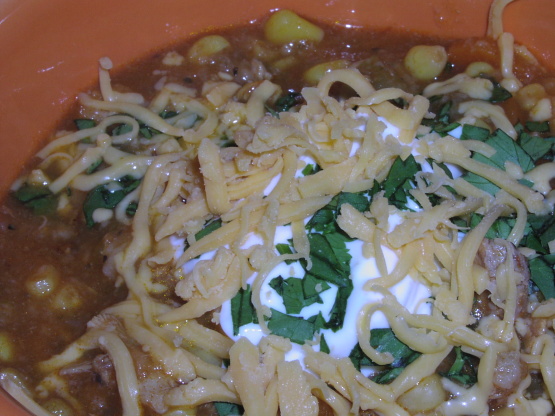 This stew/soup turned out great. Very similar to the soup we were fed while on the hunt at Treo Ranches in Oregon. Serve this hearty dish with bowls of sour cream, chopped cilantro, olives, green onions, and shredded cheese. Credits to Judy Stevens "TREO Ranches".

The pheasant soup turned out excellent! I started by making my own broth with the pheasant, some onions, carrots, garlic & celery. Simmered it for about 2 hrs. Then pulled out the pheasant and strained the rest to just keep the broth. I added some chicken paste to the broth for a little more flavor. Let the pheasant cool a bit and then shredded it. Added the rest of the ingredients back to the stock and pheasant (minus the potatoes & corn) and let it simmer until the veggies were done. We wanted more of a soup than a stew and this was perfect! When serving, I also added some wild rice & quinoa to my soup bowl. (the Uncle Ben's kind that cooks in 90 seconds in the microwave) Delicious! I will definitely make this again. Next time I'm going to try some drop dumplings in it before serving. Thank you the-cat-did-it for sharing this awesome recipe!!!!
Remove all skin and any visible fat before cooking.
Bring the broth to a boil in a 4 1/2 to 5 quart Dutch oven. Add pheasant, onion, celery, salt, garlic powder and pepper. Cover and cook over medium-low heat for 60 minutes or until pheasant is tender.
Remove pheasant with slotted spoon. Let cool.
Add potatoes, carrots, corn, tomato sauce, salsa, undrained chilies, and cilantro to Dutch oven. Cover and cook for 20 minutes until the vegetables are almost tender.
Cut pheasant from the bones and add to the stew.
This can be thickened and dumplings put on top for a main dish.
I use the legs and the thighs of the Pheasant.