Treat-The-Team Milo Cookies
I'mPat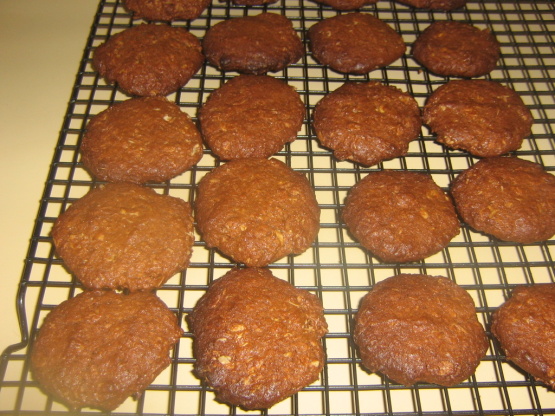 These are really tasty little bikkies from Nestle, I did them as a Halloween treat with little spiderwebs piped on top & lolly bugs.

Top Review by I'mPat
Made these to go to the DS's adult recreation music group but unfortunately they didn't like them. I talked to the supervisor of the programme and she said they were a little on the hard side (maybe I over baked them at 175C fan forced for 18 minutes). Sorry Mandy, made for Edition 8 - Make My Recipe.
Preheat the oven to 180°C.
Place the butter, golden syrup and brown sugar in a small saucepan. Cook over a low heat until the butter is melted and the sugar is dissolved. Bring to the boil, then remove from the heat. Stir in the baking soda.
Place the flour, coconut, MILO and rolled oats in a bowl. Add the butter mixture and water. Stir until thoroughly combined.
Roll into balls 3-4cm in diameter and place on a lightly greased oven tray. Press the biscuits down firmly with a fork.
Bake in the preheated oven for 15-20 minutes or until the biscuits are firm when pressed in the centre.