Treat the Birdies! Bird Feeder - Kids Can Make
Um Safia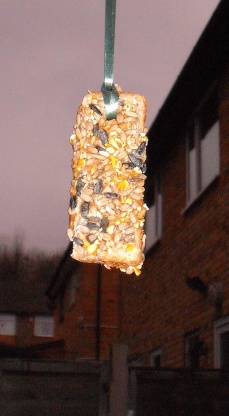 In the winter months & even early spring, food is scarce for the wild birds that visit your home. Help them get some nutrition by making these simple bird feeders. Kids LOVE to make these & they get so much pleasure from watching the birds feed from them.The great thing about these feeders is that are quick & easy to make as well as being inexpensive and the real bonus is that they hold up well in snow & rain too!

This is a wonderful idea...thank you so much for posting. My girls and I usually do this with pinecones, but the bread is so much better.
1

slice bread
1⁄4-1⁄2 cup natural-style peanut butter
1⁄2-3⁄4 cup bird seed
Take your slice of bread (if it is fresh, lightly toast it so it dries out or use stale / day old bread) & cut into 3 equal sized pieces.
Spread each side of bread with the peanut butter & drench in the bird seed.
Press the seed firmly onto the bread.
Poke a small hole through one end of each feeder & hang with string / twine etc, in a sheltered place away from predators.