Treasured Tuna Pasta Salad
mints98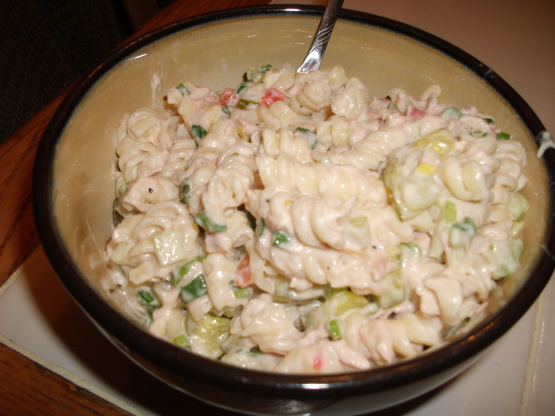 I found the original recipe for this salad on "eHow". Because the recipe was written with enthusiasm, and it had pickles and pimientos in it, I was intrigued. I now make a double batch every two to three weeks; it's a great snack, and it stores in the refrigerator for up to a week! This salad is addicting! My hubby, who is not a tuna fan, absolutely loves this salad. This is great for potlucks and barbeques. It was requested at our family Christmas Party as a side dish; how can you go wrong with the green and red coloring throughout. Note: Accent is a flavor enhancer that contains MSG, so leave it out if anyone is sensitive to MSG. Don't be afraid to make a whole batch even for a small family, because the leftovers just get better and better with each passing day.
Cook the pasta in boiling water; al-dente. Drain and rinse with cold water. Let the pasta cool while you prepare the rest of the salad.
Mix the pimentos, onions, tuna, celery, and dill pickles together in a medium-sized bowl. Add the cooled pasta.
Mix the real mayonnaise and seasonings in a seperate bowl. Pour the mayo over the salad and stir the salad well.
Chill until ready to serve.