Korkin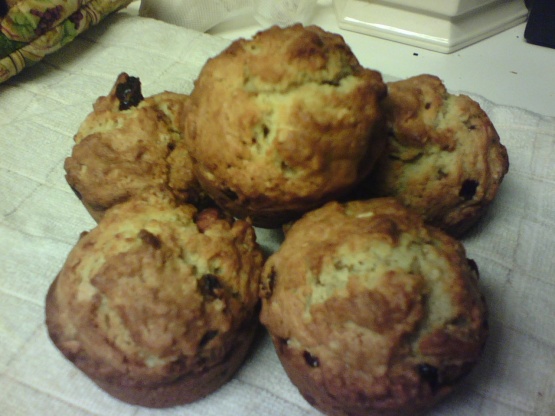 I made these for breakfast on a whim. I wanted muffins but couldn't seem to locate a suitable addition, until I came across a Nut and Berries trail mix. I thought, "Why not?". The muffins turned out crispy and sweet on the outside, and fluffy yummy on the inside. The batter is thicker than usual muffin batter, which I like because it's easier to spoon them into a tin.
Preheat oven to 375 degrees.
Mix together flour, baking soda, salt and sugar in a mixing bowl.
In a separate bowl, whisk the milk, oil, egg and vanilla together until the egg is beaten well.
Pour the liquid into the flour mixture and stir just enough to combine (it's important not over mix muffins). The batter will be thicker than typical muffin batter, but that's ok. It's also okay if it's a little bit lumpy.
Stir in the trail mix.
Spoon the batter into a greased muffin tin, filling the cups most of the way and bake for 25 minutes.
Turn out the muffins onto a clean kitchen town and let cool for a few minutes before serving.