loof751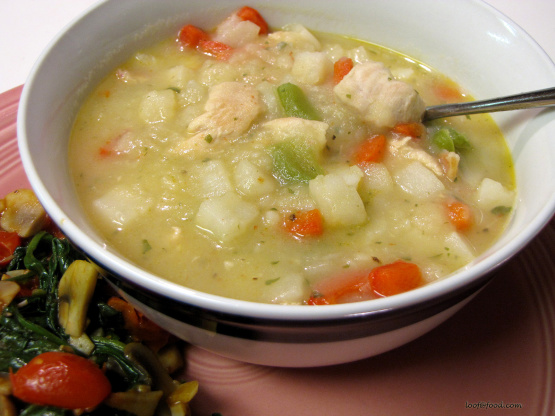 Ready, Set, Cook! Special Edition Contest Entry: Red Pepper and Bacon, Saffron flavored Yellow chicken and potatoes, and Green Onion and Cilantro make a colorful traffic light stew your family will stop in their tracks for. When I was growing up, two of my favorite dishes were Cuban Bean Soup and Chicken with Yellow Rice. This dish was inspired by those 2 dishes. I took my favorite ingredients from both and merged the meals. I hope you enjoy it!

I wanted to try the recipe after spotting your entry in the contest. I elected to use tumeric instead of saffron and only one bag of the potatoes. I ended up with a colorful and tasty soup rather than a stew, but the recipe was enjoyed by the family. The mention of 2 teaspoons vegetable oil cooking spray I took to mean either/or so used cooking spray. We like cilantro so I garnished the bowls with additional amounts before serving. I think additional veggies could easily be added if desired. Thank you for sharing your creative entry! I'm glad I tried it. Made for Spring 2011 Pick A Chef.
Season chicken with salt and pepper. Over medium heat, brown chicken breasts cubes in large pot coated with nonstick cooking spray.
Stir in bacon bits, red pepper, green onions, cilantro and saffron. Make sure the bacon, vegetables and chicken are well blended. Cook for two minutes on medium heat.
Add chicken broth and potatoes. Cook 20 minutes, stirring occasionally, or until potatoes are tender. Broth will be cooked away when potatoes are tender.
Optional: Garnish with bacon bits or green onions.