Maito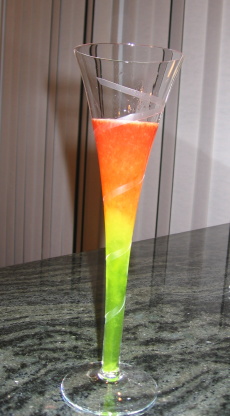 Green, yellow and red layered cocktail with ice.

yay! this is such a fun drink! its so pretty too! i only had a tall glass so when i made it, my green layer was significantly smaller than the red or yellow. I wasn't sure how to drink it.... layer by layer or all together??? but i liked it nontheless! i drank it through a straw! this drink is definately for show! :D
3⁄4 ounce Midori melon liqueur

1

ounce gold tequila

1

dash prepared sweet-and-sour mix

2

ounces orange juice
1⁄2 ounce sloe gin
Fill a pilsner glass with ice cubes.
First pour the midori, then the tequila to create a green layer.
Add sour mix.
Slowly pour orange juice against the side of the glass to create a yellow layer.
Carefully float the sloe gin on top for the red layer.
Garnish with a cherry and lemon and lime wheels.