Traditional Roast Beef With Gravy
Karen..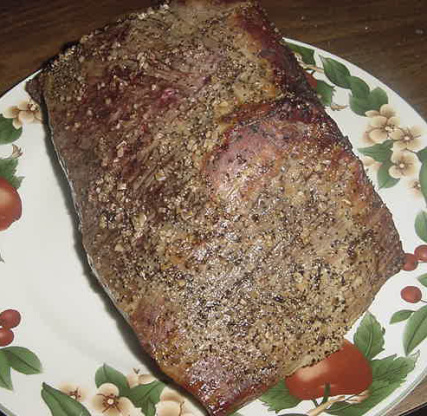 Nothing fancy here - sometimes you should just stick to tradition.

I made this recipe using a rib roast (not the easiest cut to find in Athens)... I used several pearl onions, a couple small carrots, sliced thick, and 2 inch cubes of white potatoes. I marinated the prime rib in about 2/3 cup vinaigrette - added a tbsp brown mustard to the dressing and placed the roast and dressing in a plastic bag in the refrigerator for an hour and a half on each side. This is a great recipe, as it's written; and since it's pretty basic, it lends itself well to variations. The gravy is great - but any gravy you scald is likely to be problematic... I doubt the issue one users family had with the gravy was actually due to the wine. I look forward to seeing what else my favorite OCD patient can come up with. ;) -Thomas Melas
Preheat oven to 350F.
Rub outside of meat with pepper, salt and garlic.
Place on a rack in a baking dish; pour 1/3 cup water into bottom of baking dish.
Roast beef, allowing 25 minutes per pound for medium rare, a little longer for well done.
Cover loosely with foil.
Stand for 15 minutes before carving.
To prepare gravy: drain off all except 1 tblsp of fat from the baking dish.
Place dish over a low heat.
Add flour and stir well to incorporate all the bits and pieces in the dish.
Cook, stirring constantly, over medium heat until well-browned, taking care not to burn.
Combine wine, stock and tomato paste.
Gradually stir into flour mixture.
Heat, stirring constantly, until gravy boils and thickens.
Cook for about 3 minutes.
Season to taste.