Thorsten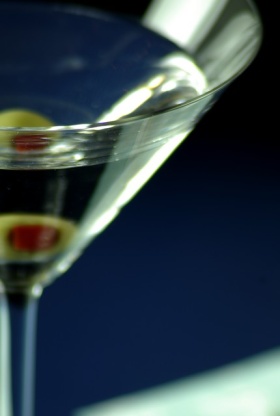 Martinis are in! The key to an excellent martini is to ensure that it is ice cold. The classic martini has only two ingredients--so it's important to use the best ingredients you can afford. Vermouth should be stored in the refrigerator to retain its flavor. Energetic shaking with ice coupled with some flair is vital for a smooth/silky result. Stirring produces a crystal-clear martini but it will never get as cold as a shaken martini. This is also called an "in and out martini" or "spitting the vermouth." It results in a well balanced martini every time.

There are so many things wrong with this recipe.

First off, a "Traditional" Martini has a large vermouth to gin ratio. This is a dry (probably even an extra dry) martini.

Second, the gin shouldn't be shaken. I won't call it bruising like a lot of cocktail aficionados, but shaking the gin hurts your martini in two ways. First, it results in a cloudy, dirty-looking drink, and nobody wants a dirty martini without olive juice. Second, it gets the gin too cold. Stirring should chill the gin to a cold temperature while still retaining the flavor.

If you like this recipe, you do not like martinis. You like over-chilled gin.
3 1⁄2 ounces vodka, high-quality or 3 1⁄2 ounces high-quality gin

1

ounce dry vermouth
olive
First inspect your martini glass for cleanliness
Then, fill the glass with ice and water.
Next grab your cocktail shaker and fill it with ice and the appropriate alcohol. Shake the alcohol to properly chill it. (No more than 30 seconds, as the alcohol will dilute in the ice and lose its integrity.) Use lots of flair! Make your martinis memorable even if it is just Friday evening at home.
Then dump out the water and ice from the glass.
Next pour dry vermouth around the top edge of the glass, holding your finger over the air spout. (This controls the pour.)
Then swirl the glass to make sure the vermouth has fully coated the inner surface of the glass.
Next dump the vermouth into the sink, and strain in the chilled liquor.
Finally, add the olive (or if they are small, several). I think it is always best to spear the olives with a cocktail pick of some sort, otherwise you will find your guests unseemly digging their fingers into their martini in order to retrieve the delectable olive. If you want a dirty martini add some olive juice.