Traditional Irish Soda Bread
Lalaloula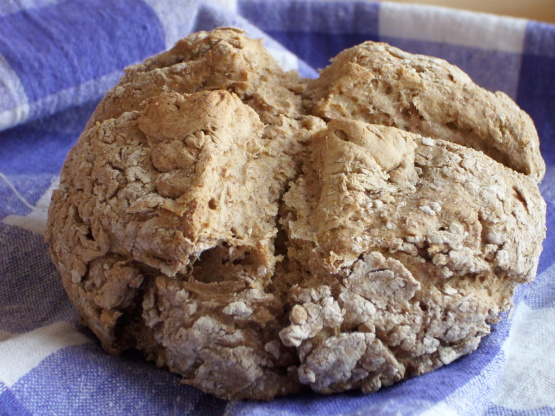 This makes a fairly dense, rustic (ugly, even) loaf of bread that is tasty and not sweet. It is crusty and rough on the outside, chewy inside. Nummy hot with lots of butter! Note: sometimes (depending on humidity etc) it takes a bit more than the 1 1/2 cups of buttermilk--just keep adding a little bit at a time until it all holds together as stated in the recipe.

This is wonderful bread, HOWEVER (and it's a big "however"), you'll get much more authentic and palatable results if you substitute pastry flour for all-purpose; Ireland grows soft wheat--a better fit for leavening with soda and acid (and it's my understanding that sour milk is more traditional than buttermilk). You can also use 3 cups whole wheat pastry flour to 1 cup white pastry flour with maybe an extra half-teaspoon of soda and a bit more salt--delicious!
Stingo mentioned that the dough should be handled as little as possible, which turns out to have been sound advice. 10 seconds of very gentle kneading with floured fingers prior to shaping the loaf and cutting the cross is plenty and ensures that you'll get as much rise as possible. I followed the baking instructions to a T and got great results. I've read wrapping the bread in a tea towel when it comes out of the oven will result in a softer crust.
Heat oven to 425 degrees F. Brush a baking sheet with melted butter or spray with non-stick spray.
Combine dry ingredients in a deep bowl. Gradually stir in 1 cup buttermilk, beating constantly, until dough is firm enough to be gathered into a ball. If dough crumbles, add up to 1/2 cup more buttermilk, 1 tbsp at a time, until it holds together.
Place on a lightly floured board and pat into an 8-inch flattened round loaf.
Place loaf on baking sheet and slash a 1/2-inch deep "X" into the top of the dough with a small, sharp knife.
Bake at 425 degrees F for about 45 minutes, or until the top is golden.
Serve hot.