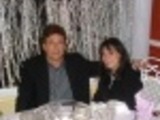 In 1942, a man named Joe Sheridan invented Irish coffee at his restaurant at Foynes Airport, near today's Shannon Airport. The drink was created to relieve the Irish damp chill for passengers flying to the United States. Stanton Delaplane, a writer for the San Francisco Chronicle, tried Irish coffee at Shannon shortly after the war. He enjoyed it so much that he brought the recipe home. The first Irish coffee in the United States was served at Buena Vista Cafe on November 10, 1952. Soon after, more Irish coffee was being consumed in San Francisco than Ireland. This drink might be responsible for single-handedly saving Irish whiskey. Irish coffee consists of coffee, sugar, Irish whiskey, and soft whipped cream. The drink traditionally does not have a maraschino cherry or green creme de menthe on top.
2 ounces Irish whiskey
1 tablespoon sugar
4 -5 ounces hot coffee
soft whipped cream
Directions
Place whiskey and sugar in a warm coffee mug. Stir the mixture until the sugar is dissolved. Pour hot coffee into the mug, the layer a dollop of soft whipped cream on top.
You can adjust the amount of sugar to your liking. To make soft whipped cream yourself, take heavy cream and whip it just until it thickens. You do not want to whip the cream to the point where it forms peaks. Slainte!
Reviews
Most Helpful
I adore boozy coffees, my little indulgence. This one is so tasty. I used Crown Royal, it is what was in the house and a really bold starbucks French Roasted coffee and a little extra sugar, because I'm not sweet enough. They were incredible together. Nice and warm leaving behind a small glow of happiness. I made this exactly as written, topped with whipped cream it was delicious. Thanks for sharing JackieOhNo!. Made for the Fearless Red Dragons - ZWT8 - Great Britain/Ireland
Wonderful warm drink!! This brought back memories of my DH (although then we were dating) and I when we went skiing and took a break and had some of these in the lodge. I made this as written except I used Nutrasweet for sugar. I used DH's Jameson's Irish Whiskey, shhh!! Thanks for sharing the recipe. Made for ZWT8 Pub Challenge.