Traditional French Pistolets - Little Onion and Rye Bread Rolls
French Tart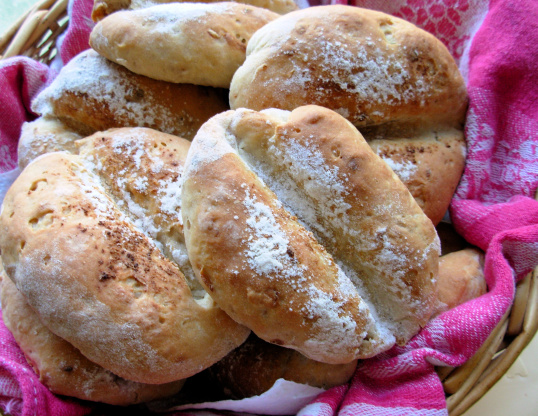 These lovely little dinner or breakfast rolls are found everywhere in Belgium, and in most parts of France too. The last time I had them was a cosy Bed and Breakfast in Bruges, where they were served warm with fresh butter and boiled eggs for breakfast. They can vary in what type of flour is used, but they must always have the distinctive split, due to them being cut with the handle of a wooden spoon before baking. They are crusty and yet light inside, and make great sandwiches for picnics or a light lunch. This recipe is the result of numerous trial and error baking sessions, and the pistolets bread rolls are nutty and full of onion flavour. I start these off in the bread machine for ease when I am pushed for time, but they are just as easily made the more traditional way, mixing and proving by hand. NB: As one reviewer found out, baking can be a challenge, and in most cases an exact science. Do try to stick to the recipe as written - you won't be disappointed! Thanks!

This recipe makes the most FABULOUS rolls! Made as directed, except I too had to make my own bread flour and since I'm in the states I also have to do the conversions. I convert, I weigh & then I measure so I don't have to do it all again the next time. And for this recipe, there will most definitely be a next time! When making bread flour you must add 1 TBL of wheat gluten to EVERY cup of flour needed and combine well before using in a recipe. I made 5 cups of bread flour and then weighed out exactly 400g which measures 3 cups and 2 TBL of flour. I used 100g (1 cup) light, unbleached rye flour and 20g (2-3/4 TBL) yeast. I added the dried onions to the bread machine mixture & had to use onion powder instead of onion salt for the topping. (Just all I had on hand.) My house smells divine! The light rye is a subtle hint of rye that compliments the onion flavored rolls perfectly. I got distracted after cutting into them with the wooden spoon (I was also canning raspberries & peach/strawberry jam at the same time.), so they rose the second time a little too long & the indentations aren't as obvious; but they're there. :) DH had to go to work before these were done, but judging by the reactions of DS, DD & myself, he's going to LOVE them! Thanks for sharing your creation, FT! Made & enjoyed for ZWT6 Team Xtra Hot Dishes!
To start the dough in the bread machine, add the ingredients in the order posted - except the topping and extra flour for dusting. Put on "dough" setting to mix, prove and rise.
Pre-heat the oven to 220C/425F/Gas mark 7.
Once the dough has risen, turn out of the tin on to a floured board and knock back, then knead for a minute or two. Cut into 12 pieces and shape into ovals. Place on well greased and floured baking sheets and cover with oiled cling-film; leave them in a warm place to rise for 30 minutes, or until almost doubled in size.
Brush the rolls with water and then sprinkle with onion salt or normal salt, before dusting with flour. Using an oiled handle of a wooden spoon, split each roll almost in half lengthways, see photo. Allow to rest for 3 to 5 minutes before baking in pre-heated oven for 15 to 20 minutes. The pistolets should sound hollow when tapped and have a crusty finish. Allow them to cool slightly on a wire rack then serve warm with butter and fillings to taste. These freeze very well.