Traditional English Pub Style Ploughman's Lunch
Cookin-jo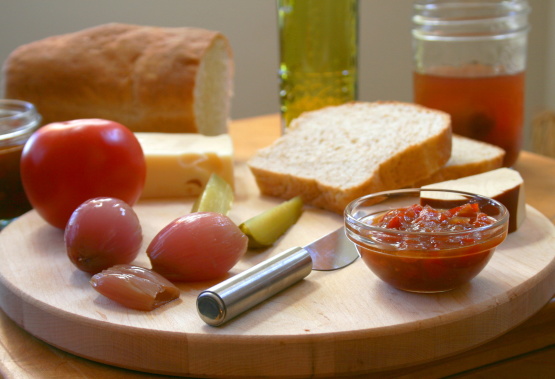 Just the words Ploughman's Lunch, conjures up images of lazy lunches sat outside with friends, in the Beer Garden of an old Country Pub! This is one of the most famous of pub lunches - so simple and yet so satisfying, especially if taken with a pint of real ale or cider! Although the term "Ploughman's Lunch" was first coined in the 1930's, as part of a very successful marketing campaign, the concept behind it goes back much further. Throughout the centuries, agricultural workers would take their lunch out to the fields with them; this usually consisted of bread and cheese with ale or cider - a perfect combination! It's easy to prepare and should consist of at least the following: crusty bread and butter; a selection of English cheeses; pickled onions; chutney and pickles. This also makes excellent picnic food, and is easy to pack and transport. I have two pickle recipes on Recipezaar that would be wonderful with this lunch: A British Classic - Pan Yan Pickle and The Almost Original Branston Pickle Recipe!.

Top Review by Leslie
What a great, memorable lunch! I used a hard cheddar and a stilton, crusty buttered rolls and of course lots of branston pickle, I also threw in some sausage for my husband. I put it all on a large wooden serving board and served cider along with it, it looked terrific and tasted even better. This brought back memories of my Grandpa, having lunch by the lake, thanks so much :)
Arrange the buttered bread on a large platter or plate; you can also leave the bread unbuttered, and place a pat of butter on the side instead.
Cut 4 ozs of cheese per person, it is nice to have a choice of two cheese, such as 2 ozs Cheddar and 2 ozs Stilton - arrange these on the same platter/plate.
Put the pickled onions and chutney or pickles on the side of the plate, along with a fresh tomato left whole and the spring onions.
Make sure there is salt and pepper available, as well as some good real ale or cider!
Enjoy!