Traditional English Cheddar Cauliflower Cheese - Gratin
Lalaloula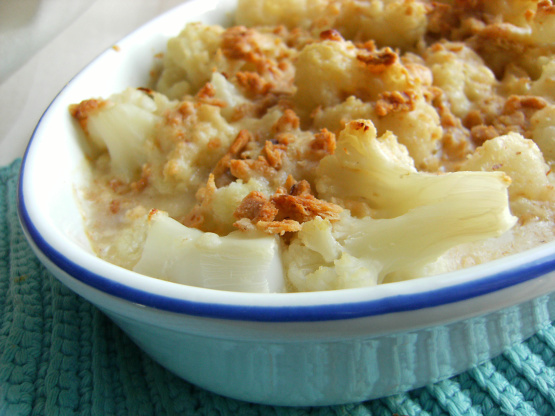 When I was growing up, we NEVER called this dish a "Gratin" - it was always Cauliflower cheese and was invariably our main meal and NOT an accompaniment! My mother had to be very clever and thrifty in what she bought & cooked, and in the absence of meat on the table, she used cheese as the protein! This dish has become very "fashionable" again is served in many guises, Cauliflower Noisette, Cauliflower Gratin, Cheese and Cauliflower Bake...but to me, it will always be just Cauliflower Cheese, and it remains one of my favourite meals! I do serve it as an accompaniment now, but you have to be very careful what you serve it with, as it is very cheesy and rich. Alternatively, just have it as a main meal and serve some homemade bread and butter with it and maybe some salad or steamed spring greens! By the way, if you make a large batch, it freezes very well - either in small plastic containers or in zip lock bags; defrost and microwave to re-heat OR reheat over a Bain Marie. Try wherever possible to use English Mustard AND a good mature Cheddar cheese in the sauce, it DOES make a huge difference to the taste, and other types of mustards & cheeses do not work as well.
Excellent. For those without a kitchen scale: 220 g of cheddar worked out to 2 cups shredded and packed 25 g of breadcrumbs was about 1/4 cup 50 g of butter was 1/4 cup
*If oven baking, pre-heat oven to 225C or 450°F.
Trim the cauliflower & break into small florets.
Boil in salted water for 10-15 minutes or until just tender.
Drain in a colander and then place in a buttered ovenproof baking dish.
Add the milk, flour and butter to a saucepan.
Heat and whisking with a wire whisk continuously until the sauce thickens, boils and is smooth.
Allow to simmer for a further 2 minutes.
Add three-quarters of the grated cheese, mustard, a pinch of nutmeg and seasoning.
Cook for further minute stirring well.
Pour the sauce over the cauliflower.
Mix the remaining cheese, and breadcrumbs, if using, together, sprinkle over the top.
Place under a hot grill until golden brown, OR, bake in a pre-heated oven 225C/450F for about 15 to 25 minutes until golden brown and bubbling.
Serve immediately.