Traditional Easter Marbled Pace Eggs
French Tart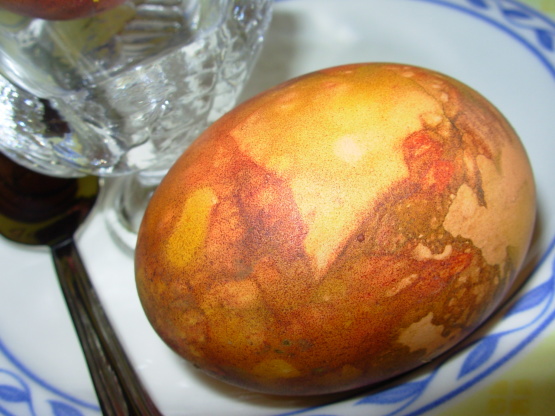 This is a very old British tradition & method of colouring and dying eggs to be boiled and eaten on Good Friday & throughout the Easter weekend. There are commercial dyes available nowadays, but I still prefer the traditional natural methods of colouring my Easter Pace Eggs – onions skins (and also spinach & beetroot water). The name Pace is thought to derive from the French word for Easter, Pâques…and in some parts of Britain – mainly Lancashire in the North West, these eggs are rolled down a hill, the winner being the owner of the egg which goes the furthest and has the least cracks or breaks in it! It is also traditional to give one of these eggs to each person who visits your home throughout the Easter period - what a wonderful alternative to the commercially over packaged chocolate eggs!

These are the most beautiful natural eggs I have ever seen. My granddaughter did not want to make them when I first described them. But when we started wrapping our eggs in various leaves and onion skins, she started having fun. When we unwrapped the eggs, it was like Christmas. We were so giddy and excited to see what each one would look like. We used brown and red onion skins, purple cabbage leaves and pigweed leaves (because I forgot to buy spinach). [pigweed is a wild edible amaranth plant that grows like mad here] Happy Easter and thanks so much for giving us a new way to make our Easter Eggs!
12

fresh organic eggs

6 -8

onion skins (red and yellow)
aluminium aluminum foil
natural non-coloured string
butter (optional)
Peel the outer skins away from red and yellow onions.
Wrap the skins around the eggs in a random way - you do not need to cover the egg completely.
Encase the eggs with the onionskins in a piece of aluminium foil - covering completely, OR tie pieces of non-coloured string around the eggs.
Boil the eggs for about 5-7 minutes.
Take off the heat and allow to cool in the water.
Peel away the string, aluminium foil, onion skins and arrange the coloured eggs in a basket or egg holder - for the centre of the Easter Breakfast, Tea or Brunch table.
You can "polish" the eggs with a bit of butter to deepen the colours and give them a gloss.
Alternative dyes include, beetroot water and spinach water for red and green eggs!