Sara 76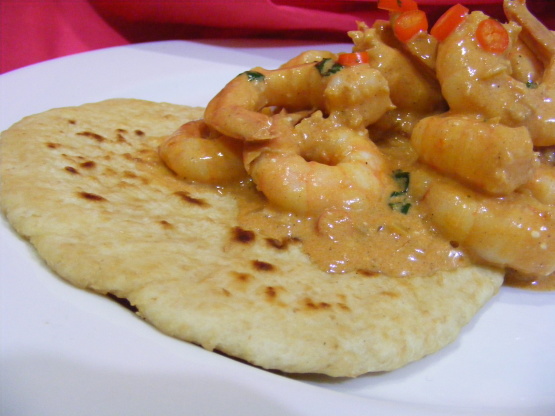 Traditional chapatis are made every day in India and contain only two ingredients, the flour and the water. This makes them very simple to make and very healthy too.

These were great and easy to make, the dough came together really well. My only complaint was that they became tough as they cooled, so perhaps the addition of some fat would help (or just make them smaller so they don't cool). I also added a pinch of salt for personal preference.
Add the water to the flour a little at a time, kneading as you go until you have a soft, elastic dough.
Sprinkle a little flour onto a flat surface or board.
Divide the dough into 8 and shape each piece into ball.
Flatten the balls slightly then place one on the floured surface and roll out into a flat disc approximately 15cm/6inches in diameter.
Repeat with the other 7.
Heat a shallow frying pan.
Lay a disc onto the hot pan and leave for 20 to 30 seconds until the surface is bubbly.
Flip over and cook the other side for 10 to 15 seconds.
As soon as brown spots appear on the underside it is done.
Repeat with the other breads.
Cooks tip: The longer you knead the chapati dough the softer the breads will be.