Brenda.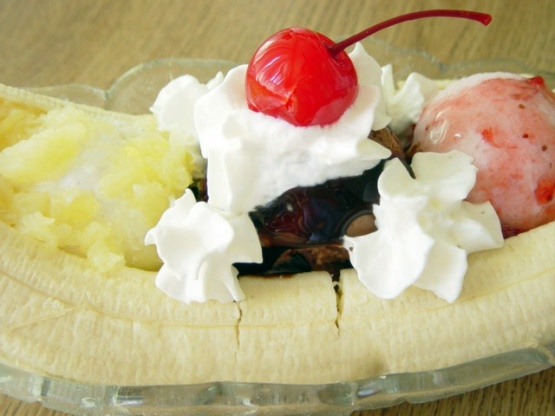 There is some debate in our ice cream parlor what the "traditional" split consists of. I did some research before we opened and it seems that this is the most consistently "traditional" split served, even though some have marshmallow, peanuts, crushed cherries and more. I prefer hot fudge over the chocolate syrup, personally :P

I like Ilysse! My kind of mom! :D Thank you so much for doing the research on the banana split! I've wanted to know this for quite a while, but never remembered to look it up. This sounds simply delicious and will be on the dessert menu for tonight. :D
Line up ice cream scoops next to each other in an oval deep dish or a banana boat.
Cut the ends of the banana off (about 1/4 inch) while still in the peel.
Slice in half longways.
Pop each half of the banana out of the peel onto each side of the ice cream row, pressing down and in a little so it'll stay put.
Top the vanilla ice cream with the pineapple, the chocolate with the chocolate syrup and the strawberry with the strawberry sauce.
Spoon the wet walnuts over all three scoops of ice cream.
Top each scoop with some whipped cream and a cherry for each.
Enjoy!