Traditional Appalachian Baked Beans
Bergy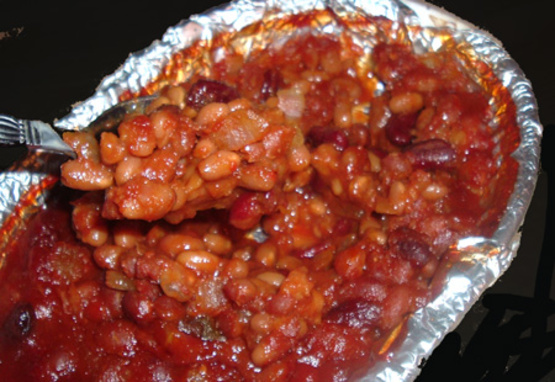 In all my years as a park ranger, bumming meals daily for 25 years from picnickers and campers, these are the finest-tasting baked beans I've ever eaten. Right out of Appalachia and a super covered dish. Enjoy! big pat.

Boy, I'm good at bloopers but it usually is a testament to the quality of the recipe. Thumbs up to bone man on this one. I only had 45 ounces of beans, but I didn't notice until I'd made it. I wanted to put it in the crock pot so I precooked the bacon and tossed it in. I went to add ketchup and well it looks a lot like my heinz bottle so it got a couple dashes of heinz 57 before I realized what I'd done. Not willing to give up, I added the ketchup to make a total of.. about 3/4 a cup because now I'd lost count. I forgot the onion. At the last minute I tossed in onion powder um well I thought it was onion powder then smelled garlic powder as it was sprinkling out. Crud I thought! So I made sure I had onion powder this time and tossed it in. Laughing to myself at this point, to tears actually and my sides hurt. I cooked it on low for 4 hours.. guess what? It was YUMMY!! Thanks for the recipe - blooper queen ;)
Mix all but bacon together and pour into a 9" x 13" casserole dish, (sprayed with PAM).
Lay bacon strips on top.
Cover with aluminum foil.
Bake in a pre-heated 400-degree F. oven for 45 minutes.
Reduce heat to 350-degrees F. and bake UNCOVERED until beans are bubbly and bacon crisps up a bit (about 45 minutes).